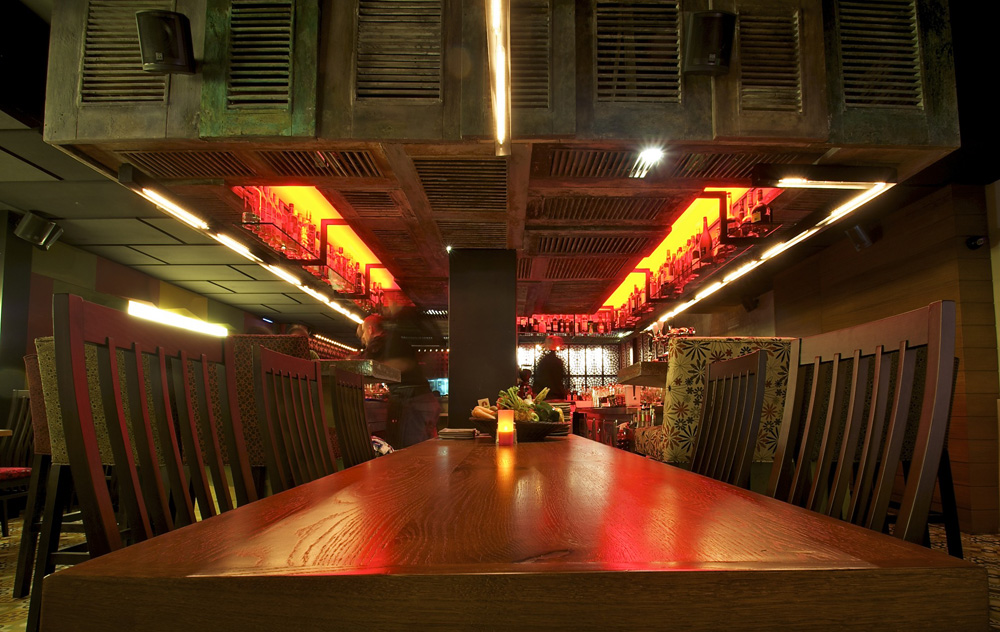 Client:
 Tapaya Tapas Bar
Location
Rishon lezion, Israel
Completed:
2011
Area:
200 sq/m
Photos:
 Shay Ben Efraim
As if taken from one of Spanish director, Pedro Almodovar's frames and based on the inspiration of his muse, Penelope Cruz, 'Tapaya' is a gesture to his works of art.
Mixture of styles, colors and material, not to say chaos, join together to create a new language of harmony.
In the base of the design concept lying the space partition into indoor and outdoor –the fiesta and the siesta.
The intimacy of a typical fiesta Spanish party is kept by an outdoor area that allows Only a glimpse into the party, through a variety of colored glass windows, which provides a bit of the happening inside.
The fiesta's heart is a central bar, made of polished exposed concrete.
Above bar floating a ceiling made of old wooden shutters which provide the restaurant air condition solution.
Semi-open kitchen reveals the exploits of the chef.
The restaurant floor is Patterned cement tiles with bold color tones.
Walls covered with large, custom made, asymmetric concrete tiles that sometimes alternating lighting with the same asymmetry.
One intimate sitting area defines by Walls made of lace warm red-colored woodcut.
Other intimate corner has walls covered with ornament Affixing black metal lace.