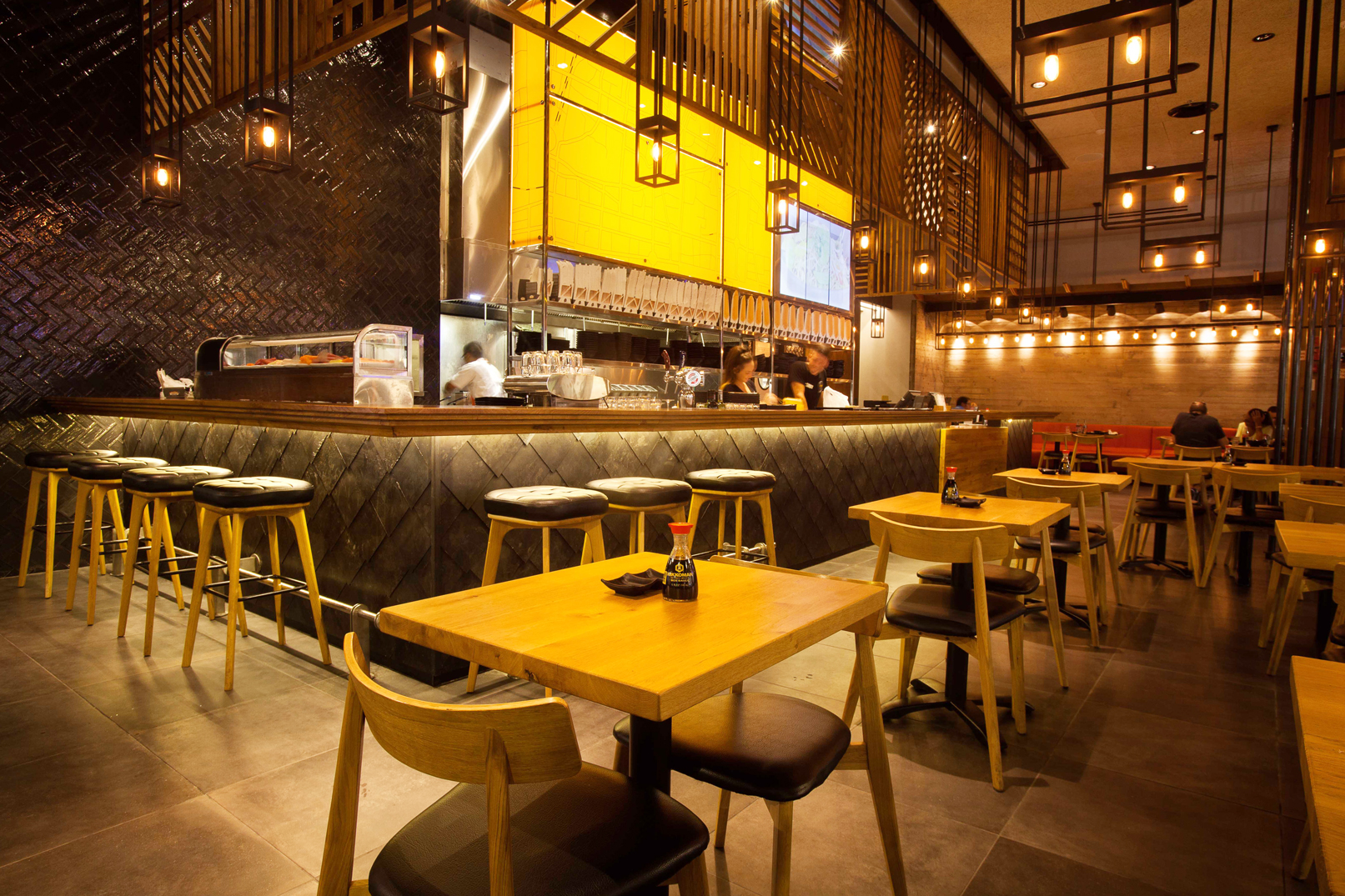 Client:
 Kampai Express
Location
Ashdod, Israel
Completed:
2015
Area:
170 sq/m
Office Team:
Alexey Razmahnin, Moshe Bichacho
Photos:
Daniel Layla
    The Kampai restaurant is located in the center of a new recreation complex with a unique architectural approach when it comes to business facades. Inspired by the traditional Japanese design, we adhered to clean and minimalistic aesthetics while adding a few warm touches to the atmosphere. Every single element was carefully selected, to ensure a cohesive look and to preserve the Japanese tradition—fulfilling the client's goal and vision for the space.
The design has given a new interpretation to traditional Japanese elements, such as the wood and rice paper partitions, represented as hanged wood dividers, keeping the open kitchen area transparent to clients. The fish scales and the scaly Samurai armor were transformed into squared metal tiles the cover the main façade of the building, as well as the pillars and underside of the bar. The acoustic ceiling tiles, simulating noodles, brighten up the upper part of the space and present a calm and homogeneous appearance.
At the center of the space, alive and active, stands the dramatic open kitchen – the beating heart and true nature of the place. While in the dining area the majority of the materials used are considered "warm" – like the wooden "pagoda" canopy – inside the bar appear "cold" materials such as stainless steel, marble and glass. As an island inside the open kitchen, shelves and a menu unit are placed with illuminated graphics of Shanghai streets, along with dynamic menu screens. All the lighting fixtures were specifically manufactured for the project.
The dissonance between the cold and warm materials gives the space a harmonic gesture: on the one hand fast food and service, and on the other hand a welcoming atmosphere, that invites for a stay longer than five minutes.