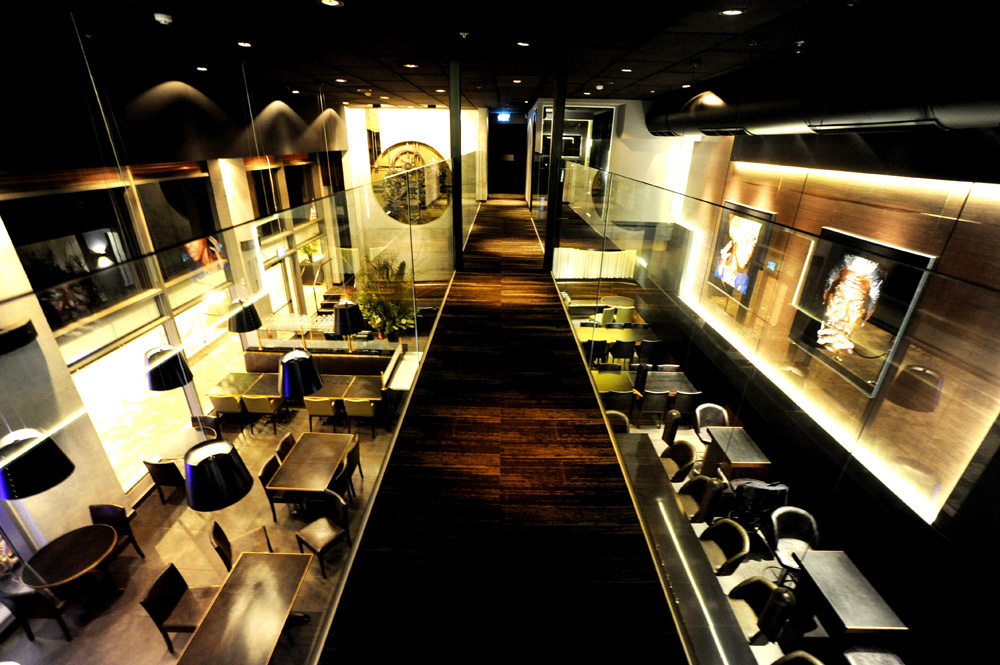 Client:
 Fish
Location
Rishon le Zion, Israel
Completed:
2009
Area:
300 sq/m
Far away from any urban life and relocated from sea shore, "Fish" became a destination restaurant at its new location.
Due to new industrial surroundings and to extra effort forced on clients, we were instructed to create a 'magnet' design and an atmosphere which will throw clients far from environment image.
The design concept was simplified into three words: Eating, Drinking, and Socializing. The main idea was to create balanced fusion between restaurant dining experience and bar lounging. It was only natural to embrace design atmosphere of comfort lounge, New York loft style.
The layout was designed to create intimate corners, yet not too intimate, so people can have both privacy and socializing. It was important to include the cooking atmosphere so the kitchen wall turned into a glass wall, allowing clients to be part of it.
The high ceiling allowed us to divide the space into two floors. The second floor hosts two private lounges (along with the toilets). A dramatic steel and concrete bridge splits the main hall like a sharp knife, connecting between the private lounges and the staircase, and sliding glass doors are attached to the bottom. During evening time thus door demarcate the bar area and defines it as a closed smoking area. The bar is located in the middle of the space, creating the option for hidden sitting spots.
A high concrete wall supports and separates the staircase system from main hall. In the upper part stands a reproduced giant 3 meter diameter clock gear, made of wood pieces, Painted artistically, so it would actually look like real clock gear rescued from the deep ocean – covered with oil and rust. With a small motor and rubber belt, the clock transforms into a huge kinetic sculpture.
Inspired by Marcel Wanders' "Can Can" lighting, a series of three costume made fixtures were designed using shaped metal and curtain fabric.