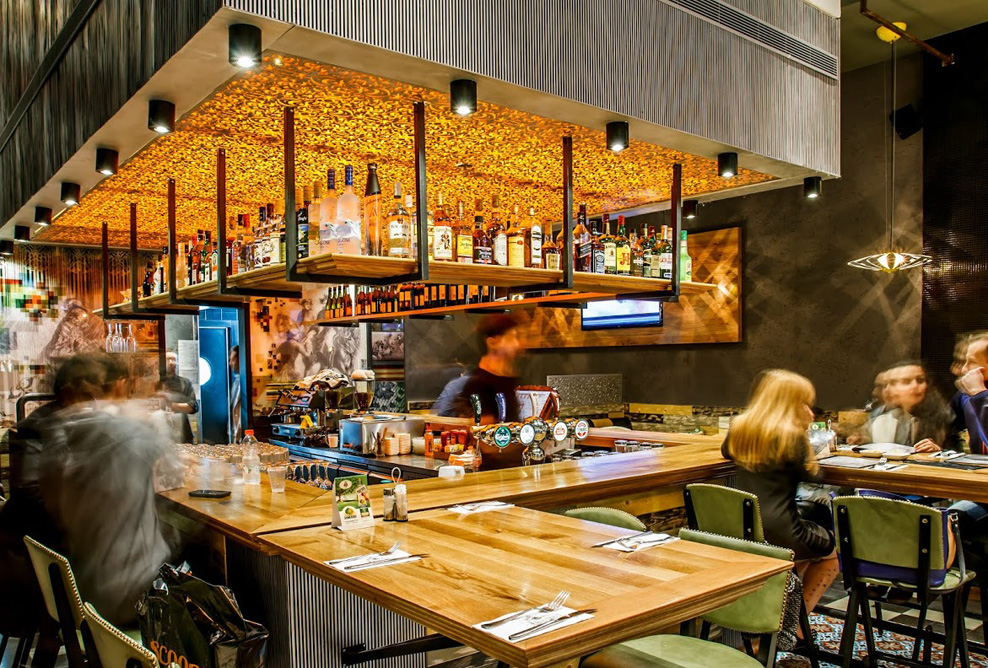 Client:
King George
Location
Netanya, Israel
Completed:
2015
Area:
350 sq/m
Located in a shopping center in Netanya, the restaurant is a new branch of the franchise chain based on mass feeding with affordable prices, without compromising the high edge design. The target crowd was set to be young and dynamic that will attract the elders as well. The design DNA aimed to match an entertainment venue along with alcohol, yet still attractive to families with children.
The main floor was covered with 3 tones of monochromatic concrete tiles combined with illustrated concrete carpets. The bar ceiling was made of illuminated CNC cut aluminum plates, also used as partition panels between booths. The walls were covered with painted wooden panels and metal plates combined with ceramic mosaics. A unique material made of grooved aluminum, filled with black PVC profiles covers the ceiling skirts and bar walls. All lighting fixtures were custom made and act as partitions between areas.
The design consists of a material variety, from old to innovative, from reuse to new. Cold and clean materials were mixed with warm and cozy surroundings. The main concern was to design a harmonic atmosphere from all material "chaos" and create a new language and identity to the chain.